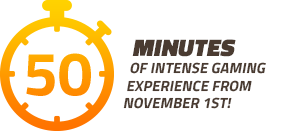 November Sale
20% Offer for bookings! The discounts are available for bookings between Monday and Thursday!
Use ETR20N promo code!


REAL LIFE ESCAPE ROOM GAME FOR FRIENDS, FAMILIES AND COLLEAGUES.
UNIQUE EXPERIENCE
Escape rooms give you the opportunity to write your own script and be the star of the story.
CHALLENGE YOUR BRAIN
You will be the one to find solutions to the puzzles. Be inventive. Unleash your creativity and work your brain.
GREAT FOR TEAMS
Real life escape games are not only fun, they are a modern way to build teams as you all work together to find a solution, solve the mystery and escape the room together.
We had to convince our teenagers and twenty "somethings" to do this game. I think they thought it would be too easy. But that was far from the truth. Not only was it super fun but really taxed our brains as well. I would recommend it to any teenager or adult. We all had a great time!
Danna C
This was a great addition to our munich stay. The kids loved it and really got into the game. So much is virtual nowadays and this was a real situation to stretch the brain
Catb
The escape rooms were very cool and advanced! Many nice riddles and lots to find out. We had a great time Solving them! Very much appreciated!
MarkLichteveld
ESCAPE ROOMS MANCHESTER
Level

Manchester is now part of the world most famous and the most interesting entertainment!
Have you ever played escape room games? Do you want to test your abilities and be part of an exciting challenge in our escape rooms? If yes then share with your friends, family, colleagues and come play with the Exit the room in Manchester! Our escape room in Manchester is part of Exit the Room's exciting universe! Test your logical thinking, feel the thrilling stories, be part of exciting games in our
escape rooms
! Search for hidden clues, solve riddles, find your way out of the room as soon as possible...the time is ticking! Don't waste your time and
book now!
BOOK NOW!