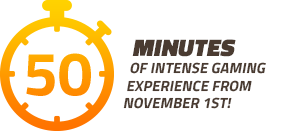 November Sale
20% Offer for bookings! The discounts are available for bookings between Monday and Thursday!
Use ETR20N promo code!


LIVE ACTION ESCAPE GAMES FOR FRIENDS, FAMILIES AND COLLEAGUES
UNBEATABLE FUN
Our rooms hold the stories, now all we need is a protagonist – you! Come and be part of our adventures.
EXERCISE YOUR BRAIN
Do you like keeping busy? Our escape rooms will put you to the test. With so many puzzles and tasks to complete, you need to stay on your toes!
REAL TEAM BUILDING
When was the last time you challenged yourself? Our escape rooms are the perfect team-building exercise. Using teamwork and time management skills, can you work together to escape within the hour?
This was a great addition to our munich stay. The kids loved it and really got into the game. So much is virtual nowadays and this was a real situation to stretch the brain
Catb
I went there with some friends and it was so much fun. ""Madness"" was really challenging but we managed to exit the room with little help from the very friendly operators. We'll be back!
Vrivravreni
Absolutely fantastic game with excellent game masters!!! Highly recommend it!!!!
Mark Hanko